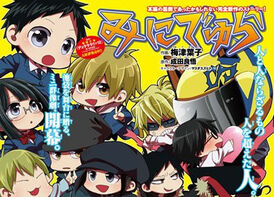 Minidura
(みにでゅら) is an SD (Super-Deformed or Chibi), comedy gag manga illustrated and written by Youko Umezu to be released in Dengeki Maoh.
Synopsis
Edit
The characters of Durarara!! have been made small and are going on a rampage in Ikebukuro! Lots of things are happening today on these streets where reality and illusion mix together!
Ad blocker interference detected!
Wikia is a free-to-use site that makes money from advertising. We have a modified experience for viewers using ad blockers

Wikia is not accessible if you've made further modifications. Remove the custom ad blocker rule(s) and the page will load as expected.