Durarara!!x2"結" (Ketsu)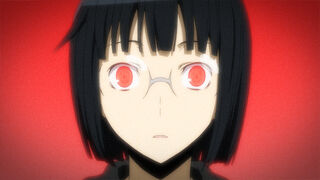 Title: Blood is Thicker Than Water 「血は水よりも濃し」 (Chi wa Mizu yori mo Koshi)
Japanese Date Aired: 30 January 2016
English Date Aired: 05 April 2016
Narrated by Takashi Nasujima
Chikage appears before the Yellow Scarves. He has come in pursuit of the culprit behind Kadota's hit-and-run, and also the gang members who attacked Toramaru. Although somewhat perplexed by this sudden turn of events, Masaomi accepts Chikage's challenge to fight. Meanwhile, Anri is unable to hide how thrown she is by what she's learned about Saika, as well as by Kasane's proposal. And now, a strange visitor arrives to see Celty, who's just come to, and Shinra.
Adapted From
Edit
adapted from what manga or LN chapter?
Referbacks
Edit
references to previous episodes?
New Characters
Edit
In order of appearance (not including OP)
Unanswered Questions
Edit
Cultural References
Edit
Ad blocker interference detected!
Wikia is a free-to-use site that makes money from advertising. We have a modified experience for viewers using ad blockers

Wikia is not accessible if you've made further modifications. Remove the custom ad blocker rule(s) and the page will load as expected.