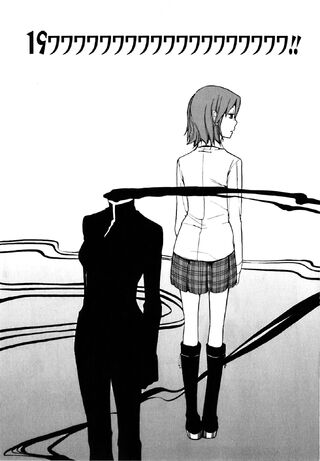 Title- ワワワワワワワワワワワワワワワワワワ!!
Date-
Celty incapacitates the rest of the Namie's crew, and Namie then runs away. Mikado and Celty hide and Mikado observes Kyohei and Izaya talking about how many people were there. Mikado then has a flashback of himself making the Dollars. After the talk Izaya tells Mikado that he might need to go underground to continue to evolve and escape his daily life. Then while Izaya walks away he refers to Mikado as TanakaTarou. Mikado then remembers Izaya referring to Kadota as 'dota-chin' as well as 'Kanra' mentioning the nickname in chat, and begins to realize Izaya is Kanra. 
Referbacks
Edit
refs to previous chapters
New Characters
Edit
Unanswered Questions
Edit
Ad blocker interference detected!
Wikia is a free-to-use site that makes money from advertising. We have a modified experience for viewers using ad blockers

Wikia is not accessible if you've made further modifications. Remove the custom ad blocker rule(s) and the page will load as expected.