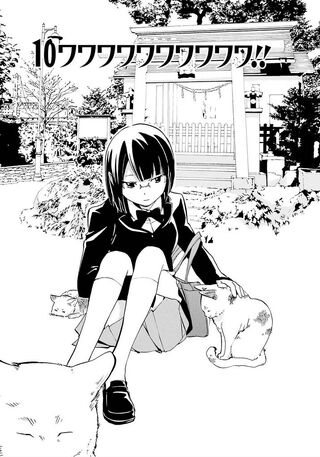 Title- ワワワワワワワワワワ!!
Date-
Mikado and Anri talk in a restaurant, and Mikado learns that Mika Harima is a stalker, and spits milk all over Anri's face and apoligizes. They talk about Mika Harima more and Anri says she's noticed Mikado before. Mikado believes she may be a stalker, then anri says she's kidding. Later, Namie tells how she hated the head, and how Seiji loved it. At the end of the chapter, Namie's key to the lab gets stolen and someone tells her that the head is stolen.
Referbacks
Edit
refs to previous chapters
New Characters
Edit
Unanswered Questions
Edit
Ad blocker interference detected!
Wikia is a free-to-use site that makes money from advertising. We have a modified experience for viewers using ad blockers

Wikia is not accessible if you've made further modifications. Remove the custom ad blocker rule(s) and the page will load as expected.