Durarara!! Manga Chapter 002
Talk

0
238pages on
this wiki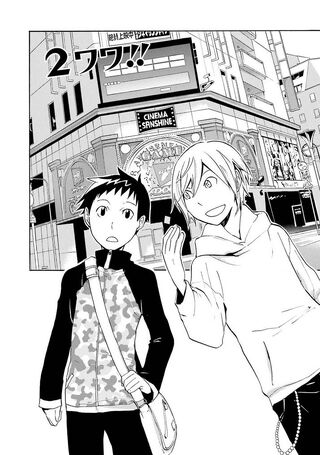 Title- ワワ!!
Date-
Mikado Ryugime is excited with his new life in Ikebukuro and thinks about the mysterious Black Rider. He was searching up about the black rider too. Elsewhere at Seiji Yagiri's house a girl was knocking on the door. Seiji was on the door trying to make sure she can't open the door. Mika Harima was the girl knocking at the door. Seiji yells at Mika that he has a girlfriend already. Mika dosen't listen.
Seiji then threatens to Cell the cops which stops Mika. Then Seiji wonders how he can survive in school with the stalker after him. Then Mika jumps throught the window yelling that she knew the window wasn't going to be locked. Seiji then was angr at her and Mika says she wouldn't tell anyone about the thing she saw in the room. Seiji then whacks her in the head with a bat because he didn't want anyone to know what it was in his room.
Seiji's big sister Namie Yagiri barges in yelling if Seiji was okay. Seiji was okay and he was only eating noodles. Namie des notice Mika "dead" on the floor. Namie roders her men to clean her up. Then she hugs Seiji saying everything will be okay and about what he had in his room.
In the chatroom TarouTanaka was still talking about when he saw the black rider. User Kanra then tells him about the black rider. Elsewhere in a parking lot some men where waiting for someone to pick up their load. Then one asks where one of the other men was. The man who didn't come slid down a slided part of the parking lot. The other men looked and saw the Black Rider. One of them with glasses walks up to it telling The Black Rider to back off. The Black rider whacks his face with her motorcycle wheel.
The other men ran at it. The Black rider knocks then all out in a second. There were two men left. A man who was named Gunstan pulled out a knife while the other one asks him what he is doing. Gunstan and the other guy does witness the shadows of the black rider. Which knocks out Gunstan. The other other kidnapper begs the rider to spare him.
The Black Rider ingores him and opens the trunk to the van the men handle. It was two tied up people in it. The man who was still standing whacks The Black Riders helmet off so it couldn't live to tell the cops. But The Black rider got up and knocked out the guy without  head.
In Mikadoi's apartment Mikado was in bed revealing he was TarouTanaka. He was scared because of what Kanra told him about the Black Rider being headless.
Referbacks
Edit
refs to previous chapters
New Characters
Edit
Namie Yagiri
Unanswered Questions
Edit